Over the past four decades I have had the pleasure of taking my readers through, and helping them understand many different music formats. During the 1970s we saw the compact cassette take over from vinyl records as the dominant format for music consumed at the mass-market level. The compact cassette was then eclipsed by the compact disc in the 1980s and 1990s. Over the past decade we have seen a dramatic decline in the fortunes of the compact disc system, with computer based audio and streaming services now totally dominating the way the general public consumes music. This has prompted the introduction of a whole host of music servers and software based music players. We now have a plethora of choices of music servers in all shapes, sizes, configurations, and price points.
Currently, one of the more popular subscription based music players is Roon, which was introduced in 2015. It quickly gained in popularity because it is so powerful, and yet so user friendly. Also contributing to its popularity is its many DSP options that allow you to tailor the sound as per your taste, and to compensate for audio system deficiencies and for less than ideal room acoustics.
One downside to Roon, and many other software based music players, is that you need suitable hardware like a desktop or laptop to act as the core to run the program. This means that you also need more than just rudimentary computer skills to get the most out of many software based music players. The other problem is that laptops and desktops are typically very noisy devices, which raises the noise floor when using them as part of your computer audio setup, thereby adversely effecting the sound quality delivered by your audio system.
Many software based music player users also complain about the problems that they encounter when updating their music player software to the latest version. Roon has resolved this issue by reinstalling the whole Roon operating system, including the kernel, every time you go through an update cycle. The advantage of this is, it guarantees that devices running the same OS version are always in the same state. Also, since the updates are installed automatically, you can even power off or reboot the device during an update with no risk of corruption or incomplete software installation.
It is a fact that a big chunk of audiophiles today, like me, are baby boomers. We grew up in the pre-internet era and so, generally, we are not as computer savvy as our gen-x, gen-y, and millennial counterparts. Most of my readers are also baby boomers, and many of them complain to me about their difficulty in understanding, operating, and getting the most out of their software based music player using their desktops or laptops. It therefore intrigued them when Roon introduced the Nucleus and Nucleus Plus.
Roon claims that these two devices are very user friendly, intuitive, and offer plug and play convenience. They are essentially file servers with no moving parts whatsoever, which are optimized for audio, and have no mouse, keyboard, or display. At its heart, the Nucleus has a very powerful Intel Next Unit of Computing (NUC) processor. The Nucleus has an i3 Intel Core Processor with 4 GB of RAM, and the Nucleus Plus has a faster and more powerful i7 processor, with 8 GB of RAM that can handle over 10,000 albums and over 100,000 tracks. It is also has a more robust DSP up-sampling option and the ability to do room calibration. The built-in SSD does not store any music files. It is used only to host the Roon Optimized Core Kit (ROCK) operating system, and the server software that manages your music library. Roon provides support for PCM, with resolutions of up to 24-bits, and sample rates of up to 384kHz. It also supports DSD up to DSD128, and it will down-sample data to match the any limitations the DAC that you use or may have.
Both units have two 3.0 USB ports to connect to your DAC or external HDD, and an HDMI port to connect to an A/V receiver for stereo or multi-channel audio. It also has a Gigabit Ethernet port. You can use one of the USB ports to connect a CD-ROM drive and rip your CDs directly to the Nucleus.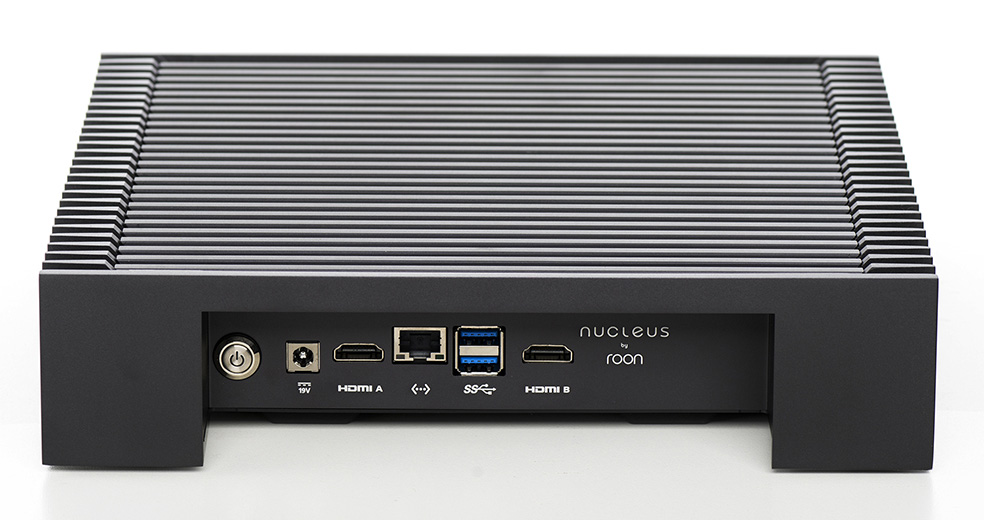 Nucleus runs a stripped down version of Linux with added security, and that is purpose built to run Roon software. At first glance, they look just like black boxes with heat sinks. Frankly speaking, a computer savvy person could build a unit that would do a lot of what the Nucleus does at a lower cost than the retail prices of the Nucleus. So the premium that you pay for a Nucleus is for the convenience of having the whole package put together for you, because you do not have the technical knowledge and expertise to do it yourself.
However, before you decide to go down the DIY route, you have to keep in mind what you will be giving up if you don't shell out the extra coin to opt for the Nucleus route. In the first place, you will have to adopt the Roon Optimized Core Kit (ROCK), which is a DIY build of Roon OS. To use ROCK, you will need to buy some hardware (Roon provides a list of recommended components), assemble them, and then install ROCK.
You need to be aware that ROCK was built before Roon introduced Nucleus. It was intended to help end-users to build hardware that could run Roon, thereby boosting demand for Roon subscriptions. Basically it is an extremely lightweight Linux-based operating system, which is an alternative to Windows / MacOS / Ubuntu / Arch / etc.
In contrast, Roon OS is a custom Linux based operating system, that is purpose designed to run Roon Server, and provide the best possible user experience to host the Roon Core. Roon OS is 30% faster than ROCK, has a DSP multi-zone option that is a lot more robust than ROCK, supports additional software, and customization / modifications to the operating system, has built in drivers for C4 and Creston applications, operates in complete silence, and, according to Roon, is designed to be very user friendly. Unlike ROCK, the Roon OS has hardware and warranty support from Roon.
One caveat is that if you have mischievous and computer savvy children or friends who like to play pranks, you need to be aware that if you install an internal drive into the Nucleus and format it, anyone who comes into your home with a device that has the Roon app installed, can access your network and reformat the drive. They can also erase the primary storage of the Nucleus. If Roon could provide a simple password option for these operations, that would resolve this Achilles heel in the Nucleus.
According to Roon, all you have to do is to connect your Nucleus to the power, to your network and to your DAC, and you are good to go. That is because the Nucleus is designed to automatically search your whole network for music files, and then index them in a way that will allow you to access and manage your whole music library quickly and easily by using your desktop, laptop, iPad, or even your iPhone. Roon seems so confident about these claims that they do not even include a comprehensive user manual with the Nucleus. All you get is a skimpy 4-step quick start guide printed on one folded sheet. However, Roon does provide a more comprehensive guide online.
Roon seems so self assured about the performance and durability of the Nucleus, it does not provide their customers with real time customer support through the phone, or thorough remote control desktop sharing options like TeamViewer. There is no Roon phone number to call for technical support. Their customer support and technical assistance is provided via a Roon on-line forum, where you are expected to register,  then post your question or problem online and wait for someone from the community to provide an answer or suggest a remedy for the problem you are facing.
In the face of such a great display of confidence in their product, I contacted my good friend Sheldon Ginn, the President of Kevro International and the distributor for Roon in Canada, to see if he would be interested in a review of the Nucleus, and he enthusiastically agreed.
A few weeks later Jeff, accompanied by Rick Lennon, Kevro's Brand Manager, dropped by with a unit of the Nucleus Plus, however we found that the Nucleus Plus was not reading the internal hard drive of my iMac nor the connected external hard drive. Jeff and Rick tried to phone their contacts at Roon for help, but were unable to reach anyone. We tried to search for answers on the Roon Forum, but could not find any. In Kevro's defense, I should mention that at the time, Kevro had only just started distributing Roon products, and so they were pretty early in the learning curve. Sheldon assures me that his team are totally up to speed now on installing Roon products.
In the following weeks, Kevro put me in touch with Roon's VP of Marketing, Dipin Sehdev, who suggested that I try and resolve my issues using their forum, and he very kindly got Dylan Caudill, the Roon Manager of Technical Support, to focus on my issues to hopefully resolve them expeditiously. Dylan tried mightily to get my Nucleus Plus to see, read, and index the music files on all my hard drives, but we had limited success.
Then Dylan suggested a maneuver on my iMac that I found quite complicated, and so I sought the help of Kevro to get it done. They introduced me to a more experienced Roon dealer in Alberta who is very knowledgeable and helpful. He proposed a real time TeamViewer session so that he could see and control my iMac to complete the maneuver that Roon required. During the TeamViewer session, in less than 30 minutes, the dealer also checked out my iMac and found solutions to every issue that Roon had been grappling with and he fixed every one of them. He also made a whole lot of setting adjustments within Roon so that the Nucleus Plus was not just up and running, but also firing on all cylinders. I could finally begin the review in earnest.
Right off the bat, I have to say that if you have an unusually large music library, you will be hard pressed to find a better solution than the Roon Nucleus Plus to monitor, manage, and enjoy your music collection. My own digital music library comprises of over 45,000 albums, and well over a quarter of a million tracks. The way Roon configured my library, I am now able to keep tabs on all my tunes, expeditiously access the music that my mood calls for, and make playlists in a much easier way than any music player / music server combination I have encountered before.
What is truly magical about the Nucleus is that once it has access to the Internet, based on the music that it accesses on your network, it will search the World Wide Web for lyrics of the songs in your library as well as metadata, artwork, biographies, history, and reviews of the artist / group. These can then be displayed on demand when you listen to songs in your library.
In the heydays of vinyl, part of the enjoyment of listening to your favorite tunes was the fact that, more often than not, you had the option of accessing the lyrics and reading about the artist as you listen to the music. That is one of the reasons why vinyl record packages were referred to as "albums." That added a whole new dimension to your listening enjoyment. This aspect was mostly lost when vinyl gave way to the compact cassette and the CD, and then lost totally when streaming music became the norm. Roon brings back that added dimension of enjoyment with its feature to download and display the songs lyrics and history of the artists as you do your listening. The lyrics option is particularly useful when listening to groups like UB40 where the thick accent of the singers makes it difficult to understand the lyrics.
I tried out the various DSP options that Roon offers, but in the end, I much preferred listening to my music without engaging any of them. I guess, over the past few decades, all my efforts to try out different permutations and combinations of gear to arrive at an audio system that sounds very organic and neutral, and using the services of a professional acoustician who employed various strategically placed absorption and diffusion panels in my dedicated underground auditioning room, has paid off in spades. However I can easily see how Roon's DSP options can help compensate for a system that is not exactly organic and neutral, or for a listening room with acoustical anomalies.
One feature of the Nucleus Plus that I was more than pleased with is their up-sampling option. This option allows you to up-sample from lower sampling frequencies to the higher ones. This is how I configured my system.  44.1 to 176.4, 48 to 192, 88.2 to 176.4, 96 to 192, 176.4 to default, and 192 to default. All figures mentioned are in kHz. I have tried many up-sampling engines in the past, and the one offered by the Nucleus Plus is definitely one of the best I have encountered. Most of the up-sampling engines I have hitherto tried have resulted in making the sound either artificially bright, or just confused. However, the one offered by the Roon Nucleus Plus retained the organic nature of the sound while making it appear fuller, more saturated, and with more presence. There is a significant price difference between the Nucleus (US$1399) and the Nucleus Plus (US$2499) but in my opinion, the up-sampler upgrade is a good reason to consider paying extra for the Nucleus Plus. Of course, if you have a huge music library that comprises of over 10,000 albums and over 100,000 tracks, then you will need the extra horsepower that is built into the Nucleus Plus.
With the Nucleus Plus you can have multiple Roon-Ready end-points (up to 16 different zones), which will be automatically recognized when they are connected to your network. This is done using the Roon Advanced Audio Transport or RAAT, streaming protocol. For the review, I had the Nucleus Plus reading music files from one 8TB Western Digital HDD connected directly to it via a USB cable, one 4TB Western Digital HDD connected to my iMac via USB, and a 1 TB internal hard drive in the iMac.
The Nucleus Plus also has a provision to install a hard disk drive or solid-state drive inside the body of the unit via SATA. The advantage of installing an internal HDD or SSD is that it will minimize, and perhaps even eliminate any latency issues while using the Nucleus.
Roon allows the Nucleus to integrate seamlessly with streaming services like Tidal and Qobuz, and also with popular radio stations, some of which are advertisement free. You also get the option of Roon Radio. You can set the system to automatically switch to Roon Radio when your playlist ends, and the tracks chosen will automatically mirror the tracks that you played before the system switched to Roon Radio.
Controlling Roon is easily done on both my iMac and iPad screens, although I found controlling the same using an iPhone is very restrictive because of the much smaller screen size and limited amount of control options. I have three iPads, but only one of them was a recent enough model (iPad Air) to be able to download the Roon Software and control my library. The Nucleus Plus is superbly engineered, and has a very quiet operation. It is designed to stay on 24/7, and at no time did the case of the Nucleus Plus get more than just slightly warm.
It is quite evident that the Nucleus Plus delivers bit-perfect data to my DAC. For the review I connected the Nucleus Plus to my DAC via a Cardas USB cable. You also have the option of connecting the Nucleus Plus to your DAC via Ethernet, but I preferred the USB cable option. I compared the sound quality of the Nucleus Plus to my Bryston BDP1. With the Nucleus Plus up-sampling option switched off, there was not much to choose from between the sound quality of Bryston BDP1 and the Nucleus Plus. Both performed very well. However when the up-sampling feature is activated, I preferred the sound of the Nucleus Plus to the Bryston BDP1, which does not have any up-sampling option. On all genres of music, the sound stage appeared more solid and stable; there is more sparkle on the treble and more body & dynamic contrast in the midrange. The bass does not go any deeper, but it is definitely tighter and more tuneful.
Roon Nucleus has some really cool features like "Focus," which allows you to sort your library by genre, by sample rate, by the year of release, and even by record labels. However, I would never have known this if not for the Alberta Roon dealer, who provided me with all this information while he was sorting out my issues. It is a pity that Roon does not provide this information in a more comprehensive user manual that accompanies the unit. It would be a real shame if many Nucleus owners never use these and many other very useful features only because they are unaware of them.
This review sets a new record, having taken around seven months to complete. This is mainly because the first four months were spent trying to sort out technical issues, which included trying to get the Nucleus Plus to see, read, and index the music files on all the hard drives on my network. This is in no way because of any fault with the Nucleus Plus itself. The product is incredibly well designed, offers great performance, and is solidly built. I am quite certain that all the technical issues I faced could have been easily resolved with a 30-minute real time telephone chat with someone from Roon's customer service department, or a 30-minute TeamViewer session with any Roon technician. Unfortunately, Roon's customer service model does not include any form of real time assistance. (I should note that I have been using Roon on both an Antipodes CX and Small Green Computer's sonicTransporter i5 for many months with no issues in terms of setup and configuration. Was easy and quick with all my music playing in 30 minutes, though in my case, all my music resides on a dedicated NAS and not a computer – Dave Clark)
This Nucleus Plus review may have had quite a challenging beginning but it definitely had a happy ending. I have no hesitation recommending the Roon Nucleus Plus especially to those audiophiles who have a huge digital music library that exceeds 10,000 albums and 100,000 tracks. For smaller libraries, the Nucleus with its Intel Quad Core i3 processor should be adequate, albeit without Roon's great up-sampling option. It will not only enhance your listening enjoyment, but it will also give you the peace of mind from knowing that the product is incredibly well engineered, performs at a very high level, and is solidly built. Granted, it is hardly cheap and something fairly similar can be built as a DIY project for much less than the Nucleus retail price, albeit with the limitations that I mentioned earlier in this review.
So, if like me, you are not exactly a computer whiz, and if you can easily afford to pay a pretty penny for a powerful and reliable plug & play solution, the Nucleus Plus is definitely worth your consideration. Just make sure you buy it from a reliable, knowledgeable, and helpful dealer who can and will provide you with real time technical support if you face any Nucleus related issues. If the dealer is even half as good as the Roon dealer in Alberta who assisted me, you are going to be just fine.
 Nucleus Plus Server
US$ 2499
Roon Labs